WIFI SOLUTION FOR OUTDOOR ACCESSORIES LIKE SPORTS – EVENTS – FESTIVAL
Currently, large media events and festivals are regularly held in stadiums and outdoor entertainment areas to make the most of the space and large area to accommodate thousands of participants. Along with that, the demand for internet access during the event is very large so that everyone can continuously update their status, images, and information on mass media and social networks through social media. your mobile devices. Therefore, the installation of WiFi systems for these events is very necessary but also faces many challenges such as: having to meet the number of thousands of visitors, having the ability to cover a large area, anti- interference… This presents significant challenges when designing and building WiFi systems for outdoor events.
The WiFi Hotspot solution from WiCell provides specialized equipment to build an outdoor smart WiFi system that provides robust performance that can accommodate thousands of visitors, and is easily deployable. quickly and easily with support for leading WiCell technologies.
01. Support 200 users accessing at the same time/AP
WiCell devices all have powerful hardware configurations that allow 100-200 users to access at the same time on an Access Point. This makes the deployment not need to use too many devices and still satisfy thousands of visitors.
02. Provides large bandwidth and 100% complete anti-interference
WiCell Access Points all support the latest 802.11ac/n WiFi standard operating on both 2.4 GHz and 5.8 GHz bands simultaneously providing up to 1200 Mbps bandwidth for extremely fast access speeds, along with anti-interference ability. The device's wave keeps the connections stable and transparent.
03. Unlimited Scalability with Dynamic Mesh Bridging Technology
WiCell's Dynamic Mesh Bridging  technology allows Access Point stations to connect wirelessly with each other automatically without having to configure devices to form a matrix Mesh Wireless that allows internet access without having to pull cables to all the base stations. To set up a new base station, simply Plug and Play (Plug & Play)
 04. Continuous connectivity and mobility
Smart Roaming  technology allows users' mobile devices to move to any location within the coverage area without fear of connection drops like the roaming ability of mobile systems. This allows users to seamlessly move between base stations without having to reconnect while maintaining access on their devices.
05. Specialized outdoor equipment with industrial safety protection standards.
WiCell's Outdoor APs all meet IP65, IP67 industrial safety certifications, allowing the device to work well in harsh outdoor weather conditions while remaining durable and stable thanks to its dust resistance, water, light, salt vapor penetration and impact.
06. Manage User Access easily
WiCell's WiFi Hotsport solution provides a centralized management controller WLAN Controller that allows monitoring and management of all users accessing the system. At the same time, it provides features like Security, Bandwidth Management, Line Load Balancing, Device Status Monitoring, etc. to help administrators set up network policies suitable for their systems.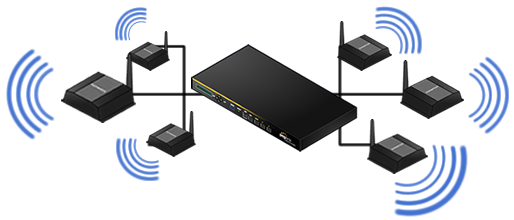 07. WiFi Marketing solution application
Incorporating WiCell Marketing Solution allows event organizers to put advertising information, collect user information… When they connect to WiFi and access the Internet. WiCell's Wi-Fi Marketing solution helps businesses save communication and customer access costs compared to traditional methods.
   Specialized products used in this solution:
– Wicell Mesh Bridge Series: MB26, MB18-PA23IN, MB18, MB16, MB12
– Wicell Smart Cloud AP Series: IAP-AC1800, IAP-AC1200, IAP-AC750
– Wicell Enterprise Mesh AP: M3235, M2225, S3235, S0265, S0245, S2235-PA15IN, S2235, S2225
– Wicell Carrier Outdoor Mesh AP: AIZ-2125, AI-0285, AI-2295, AI-2265